Talking The Walk With Sonia Choquette
Interview by Kristen Noel
Chicago, IL, October 28, 2014
Photographs by Bill Miles
Walk with your pain rather than seeing it as something you have to get over. It's a holy experience that will eventually become more of who you are, and are designed to be.

Don't be impatient.

~Sonia Choquette
On a crisp fall morning in Chicago, we stood before Sonia Choquette's front door, a lovely home on a tree-lined street. We rang the doorbell one time and within seconds Sonia herself burst through – emitting an effervescent smile and genuine warmth, she welcomed us into her living room (no fanfare, no drama, no entourage – just a lil 'ol author of nineteen internationally best-selling books, a spiritual teacher, a six-sensory consultant, and a transformational visionary guide AND me). After leaning in for a quick hug, she flitted out of the room, "Make yourself at home. Look around – I'll just be a few minutes." I was instantly captivated, free to peruse this sacred space – I felt completely at ease. So much so, that by the time we sat for our interview, we both decided to kick off our shoes and sit cross-legged on the sofa. That's just how Sonia rolls – her energy is infectious. I was immediately disarmed, melting into her world – enveloped by the warm Sonia Choquette embrace.
She was taller than I had expected, or perhaps she just looked taller — as she moved about the house. It was as if I was observing a cross between Lucille Ball and Jacqueline Kennedy, meets soul sister. Warm, self-deprecating, unassuming, charming, naturally elegant and yet, I knew I was in the presence of a great teacher, and instantly captivated. Within moments, it is evident why her reach is so broad – transcending continents, languages and cultures around the globe. Her brand of teaching embodies her humor and style – her own version of take-it-to-the-street-ZEN-reality. She had me at red Prada shoes and hiking boots. Anyone who is equally comfortable in Neiman Marcus and the Camino de Santiago – is someone genuinely living within the world, yet not of it.
Even though I was meeting Sonia for the first time – I was convinced that her new book, WALKING HOME: A pilgrimage from humbled to healed, was written specifically for me – but that is precisely how the voice of a powerful teacher transcends all boundaries and speaks all languages. This is the voice of the intuitive soul.
After experiencing a devastating sequence of life events – Sonia found herself down on her knees and praying for guidance. What captivated me was the sheer generosity of spirit she demonstrates by having taken this journey publicly, for sharing it all in its imperfections and messiness – to be real. On the book jacket, she calls herself out by blatantly stating the question on every doubter's mind…"You're a world-renowned intuitive guide and teacher. How could you not have seen this coming?"
So this is where I decided to start.
________________________
Kristen: At the perceived pinnacle of your success, your world collapsed. You could have retreated, called it a sabbatical – a vacation – and gone off to deal with this all privately. No one would ever have known and yet, you chose a different path, one in which you exposed yourself. Why did you do this publicly? And further, THANK YOU for doing so.
Sonia: I never intended to write this book, but I'm so glad that I did. It was VERY personal and yet, I knew – how could I possibly stand in front of anybody on any level, with any integrity and say, listen to me and trust me and follow my way…unless I came back into some semblance of integrity and harmony. My prayer every day, and it's always been, is – May I have the courage to be in the fire of what it takes to be who I really am. I prayed on my knees for guidance to heal. Through meditation, my prayers were answered – I got the guidance to go on the 800 kilometer pilgrimage and to go alone and to go in silence.
Kristen: …And leave your Prada shoes behind! [pointing to the book cover – big laugh] I was completely amused by following you through REI as you geared up to go on this journey through the Pyrenees mountains and across northern Spain.
Sonia: I knew I had no other choice. In following my intuition, my only answer had to be yes. I had to go. And I came off the Camino a completely different person.
Kristen: You admitted that prior to leaving you had felt like a failure. In response to those who jeered you said, "I did see this coming, I just didn't want to believe it."
Sonia: There was this whole body of my human experience: Pain, resentment, anger, jealousy, frustration, etc. that I had been using my spiritual tools to rise above, dance around, bypass — putting those emotions in "their place," putting them in the basement. My human experience needed to be dealt with and I needed to walk through the fire of all that pain. I couldn't pick and choose. I knew I had to deal with this all in a very present way. I had to walk with those unfelt feelings. Life is hard. And we are not a failure when we are faced with the difficulties. We can't bypass them.
Kristen: You described the pilgrimage as being a continuous walking prayer and that the Camino presented you with a gift each of your 35 days, provided that you were awake and aware.
Sonia: I knew that whatever happened each day was such a mirror of what was going on inside of me. For one, the weather was the worst weather in 100 years. On the first day it snowed! [It was June]. It was so perfectly mirroring my internal confusion and tempest. I literally trashed my feet on the very first day. I did not take one step that I wasn't in excruciating pain, both literally and figuratively. What was important to me was to heal. I was broken.
Kristen: We hold our guides and our spiritual teachers to an unrealistic and unattainable level – one that is exempt from human experience. Did this process of so-called coming out, provide you with any relief as you shed perceived misconceptions?
Sonia: It was a relief to stop uplifting everybody else and to actually address the parts of my own life that were not uplifted. The Camino is the way of forgiveness. You have to feel the depth of all of your feelings. You have to feel what you feel, devoid of all the spiritual platitudes.
Kristen: This baring of yourself, allows us to see the necessity to do the same in our own lives. You have given us permission to do the same.
Sonia: Our emotional experience is as holy as everything else, even our pain…because to be fully human and to be fully available to our potential, we also have to be fully available to feel pain. The moment I stopped judging it, shoving it, trying to rise above it – it began to lift. I had to go through the fire.
Kristen: It feels as if there is a real shift occurring in the world – one where we are being called to uplift the individual and collective consciousness.
Sonia: I feel that our humanity has a broken heart and I feel that our heart is broken, because we have not really allowed ourselves to be fully who we are and not been ever invited to. I hope that WALKING HOME helps us return to our broken hearts so that we can heal them; and in doing so we need to come back to our grief, come back to our shame, our disappointments and rescript them, to experience them at a more conscious level – a more loving level.
Kristen: We are ashamed of our shame.
Sonia: [laughing] I remember growing up there was this horror film "Don't Look In The Basement;" when I was walking, it was like every monster, each suppressed and hidden emotion in the basement, was showing up. When we are ashamed, we shove it away and never tell anyone about it. Until we reveal and feel, we cannot heal. Even all the shadows and dramas of our lives are holy. Humanity is traumatized, but we can heal it if we bring it to the light.
Kristen: I love this term you use in the book – "Endships." While you were referring to some actual relationships, I think it can be used as a great metaphor for any self-defeating negative theories – things we would be best served discarding.
Sonia: Our world is absolutely going through a lot of "endships," with relationships that are no longer viable, but also stories that we've had. We can't just say, I'm over it – we have to go revisit it for a proper and authentic closure. For me, WALKING HOME is closure on a whole lot of pain and a monumental amount of self-abandonment.
Kristen: You also talk about boundaries – that it's OK to create boundaries – being spiritual doesn't mean being a doormat.
Sonia: I refer to spiritual blah, blah, blah. When we frame everything in terms of "Namaste," "It's all good," "I love you," etc, but this is not met with authentic healing and emotion, it's plastic and I'm not feeling it. Our souls are here in this human journey to have a more profound experience than a drive-by.
Kristen: When referring to the gifts of the Camino, you exemplified the shift of your perception – how you held things previously and how (post Camino) you saw them so differently. To demonstrate this (though not give away all the juicy nuggets found in the book), I want to give you five aspects and have you answer in as few as one word how you held it originally and how you hold it now. Let's start off with – FATHER.
Sonia: BEFORE: Rejected, unloved / AFTER: I felt so much compassion for him. I feel him right here [placing her hands on her heart, leaning in]. He surprised me and showed up on the Camino [you'll have to read the book, people].
Kristen: ENDSHIPS
Sonia: BEFORE: Hurt, betrayed, angry, used / AFTER: Grateful, peaceful, free
Kristen: BROTHER
Sonia: BEFORE: Disgusted / AFTER: He showed up too on the Camino. [details of this incredible encounter are also outlined in the book] I really appreciated him.
Kristen: MARRIAGE
Sonia: BEFORE: Ripped-off / AFTER: LOVE. The endship of my marriage was a completion that was good for both of us.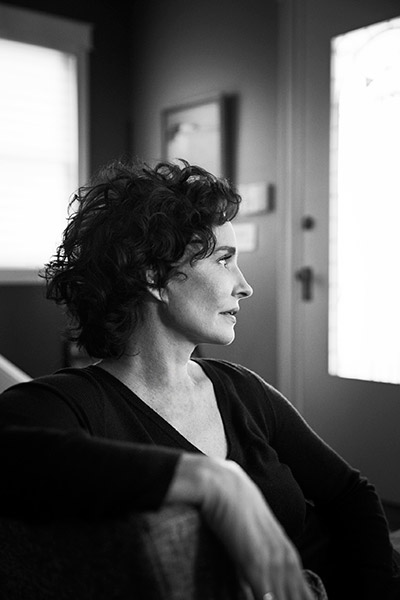 Kristen: SELF
Sonia: BEFORE: Broken, shattered / AFTER: I love myself. It is not a work in progress. I love myself now.
Kristen: A powerful tool that I have acquired along the way, was accepting the notion that we are all mirror images of one another. When we can stop to see our reflection within each other, the edges somehow soften.
Sonia: That is so true. It was such an enormous revelation and liberation to recognize that no one had hurt me more than I had hurt myself. For years I held the story that my father didn't witness me. The truth is that I never witnessed him either – I had been rejecting him too. I had been stuck in that story. Victimhood is seductive, pain is seductive.
Kristen: You wrote about Pamplona, famous for the running bulls through town. You said, "I was running from the bullying of my own self-condemnation." How do you handle her now – does she still rear her ugly head up from time to time?
Sonia: That voice is pretty quiet now, but when she does show up, I say – that's not me. As a good Catholic girl, the 1st Commandment is not to have false Gods. So when that shows up, I say – you're a false God. You are not truth – you are not a God I am going to humble to. You are a false God. I will not bow to you.
Kristen: A woman said to you, "It isn't the Camino that is so difficult – it is the carrying of mental and emotional baggage."
Sonia: The Camino was like an emotional colonic of the century [hearty laugh]. I had a ton of baggage that I was able to release out of my being, out of my cells, out of my aura, my energy. It was a complete shedding and lightening. It was simply miraculous.
Kristen: Not everyone can pick up their lives, fly across the world and embark upon a pilgrimage – what do you say to those who can't escape their day-to-day lives in the same manner? How do we create the Camino at home?
Sonia: You can avail yourselves of this shedding process by just affording yourself some privacy, but walk – go for a walk in nature. If you can walk with your feelings long enough, they'll start transforming. The point is to walk with the things that you hide and just be with them and let them talk to you, have a conversation.
Kristen: How would you lead that conversation?
Sonia: I would say – what is this all about? Why is this here and what am I not seeing? What about this is so important that it hasn't left yet?
Kristen: It's one thing to remain Zen on a spiritual retreat and another thing to incorporate it into your daily life. How did your re-entry go? Was it difficult?
Sonia: I had to keep this practice up – and the biggest part of that practice was to trust every experience you have to be genuinely holy – frame every experience as holy. If you can be with it long enough it will help you become whole.
Kristen: You spoke of a place called Cruz Ferro – how you carried a heavy rock to place upon a pile, symbolically laying your burdens down. Perhaps we could all create one in our garden – a place to release. What is your spiritual practice now?
Sonia: I am a more available me. I move more slowly. I'm not trying to get anywhere anymore. I do feel that I want to heal people and I know that the greatest way to heal someone is to witness them as someone beautiful and whole. I do feel that is my purpose.
Kristen: You said your past pain was a fertilizer to help you grow.
Sonia: Before I saw my pain as something to get over and now I recognize it as something that grew me into a more creative, resourceful, compassionate, resilient, powerful teacher.
Kristen: I loved one of your prayers in which you asked for the courage to ask all aspects of your life to move into harmony with your spirit – no matter how messy.
Sonia: Bring it on! I'm not going to play dodge ball with certain things anymore. For me to be authentic – I have to be available to all parts of me. I have to look at all of them.
Kristen:…to be willing to look in the basement…
Sonia: Listening to that part of yourself that says, don't figure it out – just be present, because you are tuning into an energy that's not obvious yet, but it's real. It's listening to what feels real and true with no need to justify – that's freedom and that's authenticity.